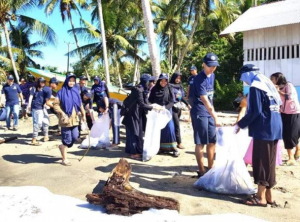 BALIPORTALNEWS.COM –  Student Community Service- Community Empowerment  Learning (KKN-PPM) of UGM in Bacan South Halmahera, North Maluku clean the beach along the Bacan Islands on Saturday (07/17/2018).
This beach cleanning  activity that carried out together with the Bacan local people is one of the KKN-PPM  programs as an awareness form to build harmony with nature, especially the coast and sea. Because the area become source of life for local people.
The KKN-PPM unit coordinator, Raka Kusuma, said that so far, the awareness of the local people in the coastal area to maintain the environment is still relatively low. They still look less concerned about the conditions of the beach and sea.
" In fact, Tanjung Obit and Prapakanda villagers look their daily lives neccesities from beach" as he explained in release on Tuesday (07/17/2018).
The low awareness of the sea can be seen from local people's behavior. Most of them throw away their garbage into the sea.
"Local People argue that it is more easy to throw away garbage into the sea," he said.
By looking at these matters, Raka needs to raise the awareness about the importance in keeping the preservation of coastal area as a part of sustainable development.
Before the implementation of beach cleaning activities, Deputy Regent of South Halmahera Iswan Hasjim, ST, MT took time to visit the KKN-PPM location in Tanjung Obit village and Prapakanda village. Iswan appreciates various programs run by KKN-PPM students from UGM. He hopes that the KKN-PPM students of UGM become a catalyst for the rise of the Bacan island community to be better and more independent in the future.
The UGM KKN-PPM which carries out the Bacan unit is a KKN-PPM between 2018 semesters which runs from 23 June to 10 August 2018. The KKN-PPM in Bacan Unit is attended by 30 students from various faculties who stayed and lived together on Bacan islands for 7-8 weeks to run their program that have planned before. (ika / humas-ugm / bpn)
Source: http://baliportalnews.com/2018/07/mahasiswa-kkn-ugm-ajak-masyarakat-bersih-pantai-bacan-halmahera-selatan/