Sand dune, or locally known as Gumuk Pasir, is a hill of loose sand built by wind or water flow processes which might occur in different sizes and shapes. Apart from being a very unique coastal area natural phenomenon, sand dune is also a newly emerging tourism destination in southern region of Yogyakarta.
For those who wants to enjoy a desert-esque landscape while still enjoying a relaxed sea breeze, this is absolutely the place to be.
For Mathilde Mallet and Maxie Elisa Netzhammer, two German students enrolling in SCS-CEL UGM program who belongs to sub-unit two and three from Grogol X village Bantul unit, the Parangtritis Beach sand dune comes calling. As quoted from Maxie's SCS-CEL story, their unit assignment was to initiate the sand dune conservation program, in which they also have to consider a restructuration process to improve this tourism magnet. Working together with 28 other Indonesian students, their unit dove in to the SCS-CEL program at the 6 th of November 2015.
Immediately after their first meetings with Grogol X locals, both Mathilde and Maxie are convinced that people's opinion are divided in the sand dune topic. Some wanted to sell the sand, some wanted to grow plantations on it, while some others wanted the sand dune to be concentrated as a tourism object. This fact alone gave Mathilde and Maxie a new perspective on natural resource management-related conflict; it is not possible for them to just come and offer solutions without first understanding the local context of the conflict.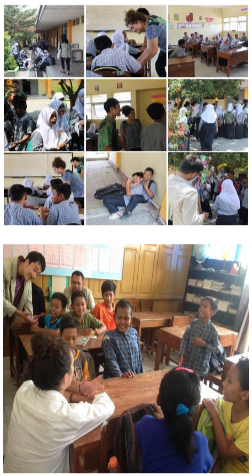 This realization led Mathilde and Maxie to tackle the issue from another entry point: education. Both of them then went to the local youth groups, or Karang Taruna, who took care of the sand dune and rent sandboards for tourists. Their main objective was to educate the Karang Taruna on the importance of sand dune conservation for a sustainable ecology, while also teaching them basic hospitality skills needed when engaging with international tourists. Mathilde and Maxie also went to local elementary and junior high schools where they socialized information on sand dune while also teaching English and German to the students. Surprisingly, the students are also proactive in teaching Mathilde and Maxie Indonesian words and culture. For both of them, this was a very precious cultural exchange experience in which they've broaden their minds to accept cultural diversities.
At the end of their program, Mathilde and Maxie were very happy to gain new knowledge on the contextualization of conflict in both local and global scale. In an era of global society where conflicts are more likely to happen, both of them are now capable to also offer alternative solutions through their experiences in UGM's SCS-CEL program.