28 June 2018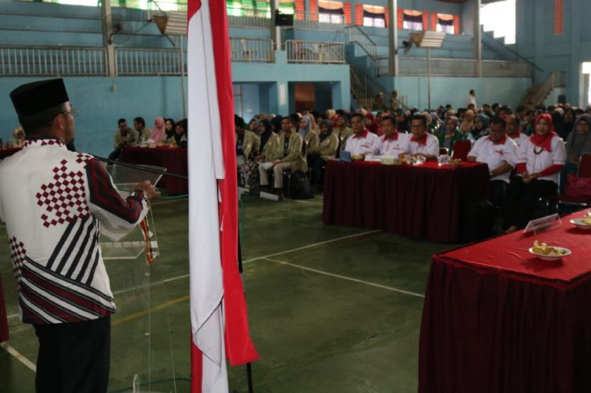 JURNAL SUMBAR | Sijunjung – The Vice Regent of Sijunjung H. Arrival Boy, SH was accompanied by the Head of the Community and Nagari Empowerment Service (DPMN), Drs. Syukri, MM officially accepted 282 students of the Students Community Services- Community Empowerment Learning(KKN-PPM) at the Sibinuang Sakti Sports Hall, Muaro Sijunjung, Thursday afternoon (06/28/2018)
Students of this KKN-PPM program come from Universitas Andalas (Unand) Padang, West Sumatra as many as 254 people and from Universitas Gadjah Mada (UGM) Jokjakarta, as many as 28 people will attend the KKN-PPM program for 42 days, starting on (28/6) to (8 / 8/2018). Later it will be distributed to 11 Nagari on 6 sub-districts in Sijunjung District.
The Vice Regent of Sijunjung , Arrival Boy on his speech did not forget to welcome the Rector of Universitas Andalas and the Rector of Universitas Gadjah Mada and to all students who attended the Sijunjung in the Manih Lansek Area.
Thanks to the Rector of Universitas Andalas because every year Sijunjung District has chosen to be the location of KKN-PPM, and also thanks to the Rector of Universitas Gadjah Mada Jogjakarta who chosen Sijunjung Regency for the first time as the location of the KKN-PPM namely Nagari Padang Tarok which is one of the Transmigration UPTs in West Sumatra, "he said.
"As well as expected during the Tri Darma duties of Higher Education in the Field of Community Service, hopefully later can help the community with a variety of positive things for the progress of the Nagari and Sijunjung District in general", hope the Vice Regent.
While the Head of DPMN Drs. Syukri, MM on that occasion said that this KKN-PPM activity was an infra-curricular activity that combined the implementation of the tri dharma of higher education to provide students with a learning experience and community empowerment.
"Besides that KKN-PPM is a method for the application and development of Science, Technology and Art which is carried out outside campus in time, work mechanism and certain requirements," he said.
(Author: Andri; Source: http://www.jurnalsumbar.com/2018/06/diterima-wabup-arrival-boy-282-mahasiswa-unand-dan-ugm-kkn-di-sijunjung/; translator: M. Brilian P)