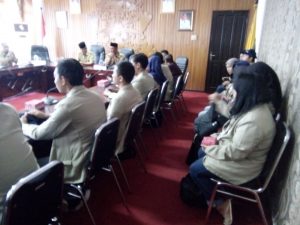 The 31 UGM students will attend Community Service Program in Sei Gohong Village and Habaring Hurung Village, Bukit Batu District.
The duration of this KKN is 48 days. But before being released to the field they first introduced the Mayor of Palangka Raya Riban Satia along with his staff on Tuesday (6/26/2018) in the Peteng Room of Karuhei I.
Representing the mayor, Deputy Mayor of Palangka Raya Mofit Saptono Subagio expressed his gratitude to UGM Yogyakarta for appointing the City of Palangka Raya as the location for Community Service for the umpteenth time.
In his direction, Mofit expects UGM students who carry out field learning assignments to be able to apply while teaching the knowledge acquired on campus to be taught to the public.
According to Mofit, KKN in Bukit Batu Subdistrict for UGM students has two choices for learning. In Sei Gohong is a tourist and fisheries area, while in Habaring Hurung is a transmigration area. (MC. Isen Mulang)
(Source: https://mediacenter.palangkaraya.go.id/31-mahasiswa-ugm-yogyakarta-kkn-di-palangka-raya/; translator: Harun Ardiansyah)