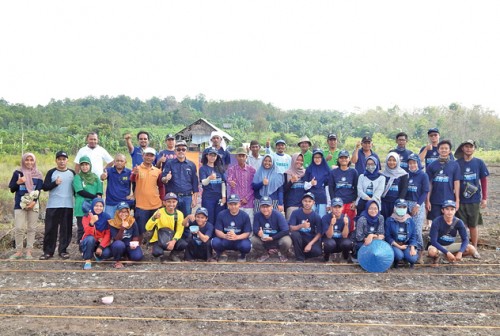 MERAWANG – Student Community Service-Community Empowerment Learning (KKN-PPM) of Universitas Gadjah Mada (UGM) Yogyakarta and farmers in the Village of Kimak planted rice in the rice fields of Kimak Village, Merawang District, Bangka Regency, Sunday morning (07/29/2018).
Head of Agriculture Office of Bangka Regency, Ir. Kemas Arfani Rahman who represented the Bangka Regent Tarmizi during his speech said that indeed changing the cultural behavior of farming rice fields in Bangka was quite difficult, different from other regions. However, the Bangka Regency Government has always been trying since 2016, where rice fields covering an area of ​​2200 hectares have been printed, where the results have been seen in 2017. If previously the availability of rice in Bangka was only 7 percent, it has now risen to 23 percent.
''One example is in the Matras area where ex-mining land can be used as a rice farming area with a yield of 1 hectare that can reach 4 tons which has been harvested eight times, 'said Kemas.
For this reason, it is expected that the rice field farming area in the vast 300 hectares of Kimak Village is managed with enthusiasm.
To stimulate the community to cultivate their land, the Agriculture Service is also ready to facilitate so that farmers in Matras can open new land in Kimak to be used as agriculture. So there is no need for a transmigration program to process agriculture in Kimak.
''It is more intensive in managing agriculture and we also have the technology to install Biological Organic Fertilizers (POH) which can be used for better rice growth,' 'explained Kemas.
Meanwhile, the Village Chief (Kades) of Kimak, Mustafa, in his remarks expressed his gratitude for the appointment of Kimak Village as the second place of KKN. The rice fields in Kimak Village are quite extensive and the village will disburse Rp. 40 million in village funds in the field of empowerment.
"So far the Government has given great attention to agriculture and we always cooperate with the BPD in synergy for the benefit of the community," explained Mustafa.
On that occasion, Fia, the coordinator of the KKN PPM UGM in the village of Kimak, also said that rice cultivation is one of the efforts to improve community welfare that is included in the KKN theme, namely improving community welfare through optimizing the yield of rice fields and mushroom cultivation and developing ODF-free.
The seeds planted are local rice seeds that are resistant to the dry season. It is expected that after the KKN implementation, the village officials will continue planting rice in the village of Kimak.
Present at the rice planting activity were representatives of the Food Service, Agus, Representative of Bappeda, Harjono, Public Relations and Protocol Section of Bangka Regional Secretariat, PPL, community leaders, and farmers of the Kimak Village.
(Source: http://babelpos.co/2018/07/mahasiswa-kkn-ugm-dan-petani-kimak-tanam-padi/; translator: Harun Ardiansyah)