Sendang-wonogiri.desa.id│ Universitas Gadjah Mada (UGM) once again releases its students to take part in the PPM Community Service Program. Located on the Grha Sabha Pramana (GSP) of UGM on Saturday (06/23/2018), the release of KKN PPM students was conducted directly by the Village Minister, Disadvantaged Regions and Transmigration, Eko Putro Sandjojo.
In this period the UGM KKN-PPM carried the theme 'UGM Synergizing to Build Villages' and carried out in 34 provinces, 107 municipal districts in Indonesia and consisted of 212 units. Students in the KKN-PPM program in this period numbered 5,992 students, who came from 18 Faculties and Vocational Schools. The field operational activities themselves will be held for 2 months, starting from June 23 to August 10, 2017.
A total of 30 KKN-PPM UGM students deployed in Sendang Village held a work program exposure activity on Thursday 5/7/2018, located at the TP PKK secretariat office in Sendang Village. The activity was attended by the Head of Sendang Village Head Drs. Suparno, village official, RT / RW Chairperson, hamlet representative, TP PKK representative and all KKN PPM UGM students in Sendang Village.
The event began with remarks from the chairman of the UGM Community Service Unit, Rakanandity Said. In his speech he introduced that the KKN PPM UGM unit in Sendang Village was divided into four clusters namely the Cluster Scitech , Social Humanities, Medika and Agro cluster. "Later, each cluster will present its work program, so that you can provide input on the discussion session," said Rakan.
On that occasion, Acting Chief of Sendang Drs. Suparno expressed his appreciation to UGM for sending its students to implement a community service program through the Community Service Program. It is hoped that the students can help the people of Sendang Village, especially in handling disaster, considering that this region is a disaster-prone area, especially landslides. Besides that Pj Kades asked students to take part in promoting the potential of Sendang Village with several tourist locations managed by BUM Desa to be introduced to their home areas.
Then the work program exposure program starts from the Science and Technology cluster (Scitech). Yusuf Safrizal as the Scitech cluster coordinator explained the program about making village master plans, digitally village tourism maps, and making broadcast applications related to disaster. Also web training, graphic design for BUMDes managers.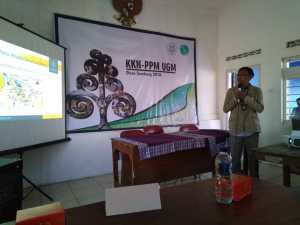 The next presentation was by Cahyo Mulyo Putranto from the Agro cluster, who delivered a plan to collect critical land, familiarize yard plants, plant ornamental plants and collect superior seeds. Besides that, he planned to provide information to elementary school students in Selopukang Hamlet about hydrogels to increase the interest of children learning agriculture.
In the next presentation of the Medika cluster by Erika Sekar Pramesthi with a work program plan for data collection of vulnerable groups (pregnant and lactating mothers, the elderly, children and toddlers, and groups with special needs) to facilitate evacuation if things happen that are not desired. Activities will be focused on Selopukang Hamlet, as the most vulnerable hamlet or a high risk of landslides. Because in this hamlet in the last few years there has been land movement. Also will conduct an initial examination to screen for non-communicable diseases, especially hypertension and diabetes mellitus.
Annisaa Hasyiyatul Jannah representing the Socio-Humanities cluster said about the plan to hold a Focus Group Discussion on Disaster and Tourism, Disaster Journalism Training, Psychological First Aid Training, Disaster Response Simulation and disaster talk with a cultural approach. The final session was held with a discussion with all participants on matters relating to disaster management. This work program aims to get a more comprehensive picture of the status quo of disaster and tourism in the Sendang sub-unit area. Focus Group Discussions will involve representai from the village, both agencies, village officials and village communities. (admin)
(Source: http://sendang-wonogiri.desa.id/2018/07/06/paparan-program-kerja-kkn-ppm-ugm-di-desa-sendang/; translator: Harun Ardiansyah)