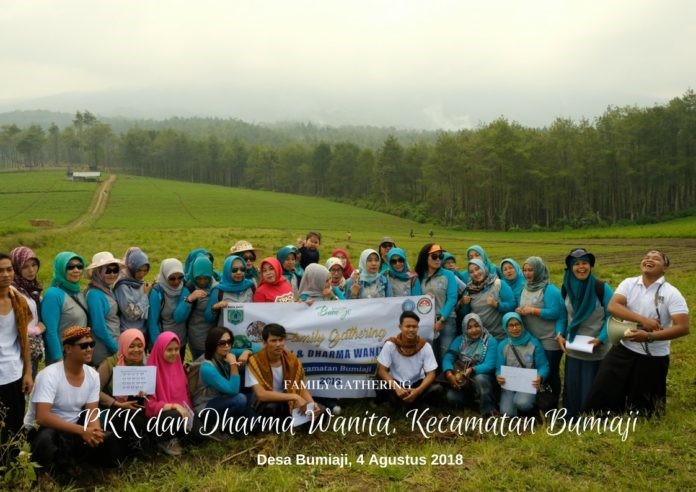 Member of PKK and Dharma Wanita of Bumiayu after Literary class on Saturday (4/8/2018). Photo: Team of KKN-PPM UGM
Batu – Students of KKN-PPM UGM Unit JI-040 in Bumiayu Village, Bumiayu Subdistrict, Batu City, East Jawa in Cooperation with Sinergi Group and Tourism Guide of Bumiayu Village is implementing the program of "Trial Desa Wisata Bumiayu" on last Saturday (4/8).
This activity in held in correlation with the bigger picture of KKN-PPM UGM Team Unit JI-040, which is "Mapping and Development of Agrotourism Complex Potential to Support Tourism Sector". From that big theme, Students of KKN-PPM tried to make a tourism package which was tested first through this activity.
Tourists underwent a half-day tourism package with some activities such as writing Javanese letter in Gardu Pandang, Water Lettuce-Picking tour, and "Ulek Sambel" competition in Tlogorejo village, Flower-Picking tour ini Beru village, and lastly ended with Arranging Flowers competition di Omah Budaya Slamet. This event is packed with gamification to make it more attractive and tourists can actively participate in every activities.
"We would like to sell experience, that s why this event has to be packed in a way that the tourists are not only enjoy the natural scenery of Bumiayu Village, but also the tourism experience here will be remembered," says Arif Bawono Surya, Project Manager of Sinergi Group. The same experience was also felt by the tourists. "In general, the event is good. I expect more in javanese letters lessons. I feel that I want to learn more." Says Hevi Kurnia, one of the tourist.
This activity becomes the lesson learned for the youth who is involved in Tourism Youth. Awaludin Bashir, a member of Tourism Youth of Bumiayu village says, "this activity can be used for our practice to get used to."
This activity which was held from 9:00 AM to 3:30 PM was attended by 30 people from PKK and Dharma Wanita Bumiayu. This visitation in terms of Family Gathering is one of trial activities of Bumiayu Tourism Village. 22 students from KKN-PPM UGM and 10 member of Tourism Youth has prepared well this activity.
(Author: Nivita Saldyni Adiibah; Source: https://muda.kompas.id/2018/08/09/uji-coba-paket-wisata-desa-bumiaji-kota-batu/; translator: Harun Ardiansyah)